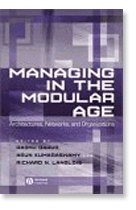 Managing in the Modular Age: Architectures, Networks, and Organizations
Raghu Garud, A. Kumaraswamy, Richard N. Langlois (Editor)
October 2002

Barnes and Noble
Amazon.com


Acknowledgments.
Introduction: Managing in The Modular Age: Architectures, Networks and Organizations – R. Garud, A. Kumaraswamy, R. Langlois.

Part I: Overview:
1. The Architecture of Complexity: H. A. Simon.
Commentary: M. Augier and H. A. Simon.
2. Technological and Organizational Designs to Achieve Economies of Substitution: R. Garud and A. Kumaraswamy.
Commentary.
3. Networks And Innovation In A Modular System: Lessons From The Microcomputer And Stereo Component Industries: R. N. Langlois and P. L. Robertson.
Commentary.

Part II: Modularity And Architectures:
4. The Role of Product Architecture in the Manufacturing Firm: K. Ulrich.
Commentary.
5. Managing in an Age of Modularity: C. Y. Baldwin and K. B. Clark.
Commentary.
6. Towards a General Modular Systems Theory and Its Application to Interfirm Product Modularity: M. A. Schilling.
Commentary.

Part III: Networks And Standards:
7. The Economics of Networks: N. Economides.
Commentary.
8. The Art of Standards Wars: C. Shapiro and H. R. Varian.
Commentary.

Part IV: Field-Level And Organizational Dynamics:
9. Dynamics of Organizational Communities and Technological Bandwagons: An Empirical Investigation of Community Evolution in the Microprocessor Market: J. Wade.
Commentary.
10. Dominant Designs, Technological Cycles and Organizational Outcomes: M. L. Tushman and J. P. Murmann.
Commentary: G. Westerman and M. L. Tushman.
11. Modularity, Flexibility and Knowledge Management in Product and Organizational Design: R. Sanchez and J. T. Mahoney.
Commentary: R. Sanchez.

Index.